A friend of mine has been trying to relocate to Canada from Nigeria as a nurse for three (3) consecutive years. She was denied visa twice and on her third attempt, her visa was approved. In this article, I will share with you the step-by-step of what she did differently the third time to get her visa approved.
How to Relocate to Canada from Nigeria as a Nurse
To relocate to Canada from Nigeria as a Nurse, you'll need to follow steps such as obtaining a nursing degree, passing language proficiency tests (like IELTS), getting your credentials assessed by nursing regulatory bodies, and applying for a work permit or permanent residency through appropriate immigration programs.
Immigration Pathways to Canada from Nigeria as a Nurse
You might have heard of different ways someone can migrate to Canada from Nigeria, which is include; Education, Express Entry (EE) etc.
To relocate or migrate to Canada as a Nurse from Nigeria, you are qualified to come to Canada as a skilled worker through one of the many economic immigration programs at both the federal and provincial levels.
The following are the three major immigration pathways for someone who wants to relocate to Canada from Nigeria as a Nurse.
Express Entry (EE)
Immigration, Refugees and Citizenship Canada (IRCC) is the Ministry of the Canadian Federal Government that facilitates migration. Express Entry (EE) is an electronic application system used by IRCC to select/process some of Canada's economic immigration programs, one of which is the Federal Skilled Worker.
Therefore, a Nurse can only qualify for the Federal Skilled Workers program under Express Entry if they meet the requirement.
As a nurse, you are required to score 67 out of 100 possible points in the Comprehensive Ranking System (CRS) based on factors like your education, age, work experience, and language proficiency.
IELTS score requirement for nurses in Express Entry depends on the individual's complete profile. You need to score at least 6.0 in each of the four language abilities to be eligible for Express Entry
Provincial Nominee Program (PNP)
The Provincial Nominee Programs are immigration programs that are run through a partnership between provincial governments and the Federal Government.
Each province in Canada operates its own Provincial Nominee Program with multiple streams, but every Provincial Nominee Program leads to Canadian Permanent Residence.
Some PNPs are only open to candidates who are already in the Federal Express Entry Pool. Many PNPs require some kind of connection to the province operating it, like family residing there or having experience studying or working in the province.
Other PNPs are designed to address skills gaps in the province by accepting skilled workers with experience in occupations that are in demand in the province.
Quebec Skilled Worker
As a nurse, you may also be eligible for the Quebec Skilled Workers (QSW) program if you score at least 50 points on the Quebec Selection Grid.
The Quebec Skilled Workers Program doesn't require a minimum required IELTS score. But, depending on your profile, you may be required to have at least a certain score to qualify.
You don't need an Educational Credential Assessment (ECA) for your degree. And you don't need to declare proof of funds for this immigration option.
In my friends' case, the Federal Skilled Worker (FSW) route under the Express Entry (EE) was the route she used.
Attributes you Must Possess to Succeed in this Journey
This journey requires some vital attributes you must possess to succeed.
The 6P's are;
Purpose
Planning
Preparation
Patience
Perseverance
Prayers
These are needed in this journey and above all is God's Favor, Mercy, Grace and Direction.
Requirements to work as a nurse in Canada
Education Evaluation: You will need to evaluate your educational credentials. This is just for the Canadian authorities to evaluate and know where your educational qualifications rank in their Canadian Education System.
Language Examination: This exam is to gauge your proficiency in the English Language. Some people do the French version too, to boost their scores.
National Occupational Classification (NOC) selection: You need to choose the NOC that is closest to your work experience.
Proof of Funds (POF): You need to calculate and know beforehand, how much funds you are required to have as proof of funds. These funds must cover all your immediate family members even if they are not going with you. [read more from the CIC website].
Express Entry Profile: This is the pool where you are picked for the next step in the process so you need an account as early as possible on it. You will need your ECA report, IELTS TRF number and international passport number.
Furthermore, to create an Express Entry (EE) profile. You must remain in the pool till a favorable draw comes your way.
Action Plan Towards Migrating to Canada from Nigeria as a Nurse
Below is a comprehensive list of the action plans to take to achieve your dream of relocating to Canada from Nigeria as a Nurse.
Step 1: Visit cic.gc.ca Regularly
Most importantly, you need to read up on all information and stay up to date, because things change. To have a broad knowledge of Canadian immigration. Always visit their website www.cic.gc.ca, choose your language and click on immigrate for detailed instructions.
Step 2: Calculate your CRS score
If you are eligible and also have a score of (67/100 and above), you can complete a profile and you will be placed in the Express Entry POOL of candidates with other candidates based on the Comprehensive Ranking System (CRS) Criteria.
Use the CRS tool/calculator to estimate your CRS score HERE
CRS Criteria/CRS Grid is HERE. You can use this to manually cross-check your calculated CRS score.
Note: You should know the components of your CRS points like the back of your hand (e.g. how many points you currently have from age, education, skills, work experience, language exams etc.). This grid also clearly shows the options for getting more points.
Step 3: Get your National Occupation Classification Code (NOC)
Below is a picture showing the different NOC codes in Nursing. Check the picture thoroughly to know where you belong. This code differs according to your occupation description.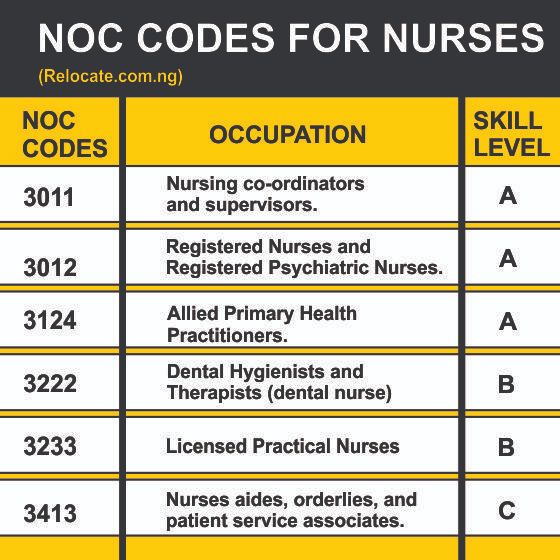 Step 4: Evaluate your ECA (Education Credentials Assessment)
You are required to evaluate your education credentials if it meets the required standard for practicing as a nurse in Canada.
Applicants educated outside of Canada must complete an Educational Credential Assessment (ECA) through one of the designated agencies to ensure that their foreign education is equivalent to Canadian education.
International Qualifications Assessment Service (IQAS): Your education credentials could be assessed by IQAS – here or WES but I will suggest you go with it IQAS if you're migrating from Nigeria as a Nurse.
These organizations authorized by the Canadian Government to carry out education checks and verification. IQAS is good for these Nurses (RN and RPN, RM, and other post-basic degrees or RN and BNSc)
Timeline for evaluation: ICES is 12-14 weeks your school can send transcript to them by official email and they don't reverify with your school like WES.
Also ICES does not provide soft copy so it is advisable to use an address in US, Canada or UK then get it scanned for you. ICES evaluates each degree at CAD 200 unlike WES.
WES is now 35 days/ 7 weeks after getting all your documents and verification from your school.
IQAS is about 20 weeks from document receipt.
It is advisable to evaluate your educational credentials BEFORE you do your English language examination because your language results expire in 2 years, while your Credential Evaluation usually lasts about five years.
If you do the English exam first, and there is a delay in you getting your credentials evaluated, the time will start counting against you.
Have your credentials assessed by the appropriate authorized Canadian evaluation body.
NB: ECA for immigration is what you need. The main idea is to get the right body to correctly evaluate your degree to give you Canadian Educational Equivalence.
Step 5: Language Examination (IELTS) 
Visit British Council or IDP either online or their office to book a date to write the English language requirement for the program which is IELTS General training.
You can also write the French Language test (TEF) at Alliance Français which could boost your CRS score and gives you the advantage of being bilingual and various opportunities attached to it.
Note 1: Married couples are advised to both evaluate their credentials and write the IELTS exam for greater chance of increasing CRS score.
Note 2. The minimum scores for the secondary Applicant should be L8, W7, R7 & S7 while the primary applicant should try maxing out with (L8.5, W7.5, R8.0& S7.5). This score can be achieved with determination and constant study.
Below is a list of IELTS Practice Materials. Please check the listed sites and join any available IELTS practice group;
Step 6: Get Your Nursing Credentials Assessed by National Nursing Assessment Service (NNAS)
In a bid to migrate to Canada from Nigeria as a nurse, another important thing to do is to get your Nursing credentials assessed by recognized Nursing body in Canada.
This process is managed by the National Nursing Assessment Service (NNAS) and you will be required to create an online account with them before your nursing credentials can be assessed you can simply create an account here
What the National Nursing Assessment Service does is that they convert your local (Nigeria) nursing credentials to a North American standard then compare and evaluate it to see if it meets the Canadian standard.
The assessment process by NNAS costs CAD 650 and this is one of the important steps in securing both your Canadian Visa and your Nursing Registration in Canada.
Start your National Nursing Assessment Service Application
The first step towards working as a nurse in Canada is to set up an online account with us and complete your application. Start your application by creating a profile on the NNAS application page
Requirements for the Application Includes;
You will be required to submit two proof of identity documents: These proof of Identity documents you're required to submit must be notarized or legalized.
Copies of original documents (signed, dated, and stamped) complete with your signature, and could be your Birth Certificate, Marriage Certificate, Driver's License, International passport or any other government-issued identification. This can only be done by a government-approved official usually notary service agents.
Download your Nursing Education form from NNAS website: You are required to download this form from your online profile account on NNAS website, sign the form and send it to the school where you were trained as a nurse.
This form must be filled and attested to by your school official and sent directly from the school official to NNAS by mail or through courier services like (DHL), along with copies of your academic records/transcript documents, nursing program curriculum/course descriptions and/or course syllabi.
Submit Nursing Registration Form: Download and print this form from your online account. Print, sign, date and send this form to all nursing licensing authorities where you were ever licensed or registered outside of Canada and in my friends' case, she was only licensed in Nigeria. (They must be completed by each authority and sent directly to NNAS by mail or courier.)
NNAS will not accept your Nursing Registration Form if it is not sent directly from your licensing authority. You may not submit it yourself.
If you have a diploma that allowed you to work as a nurse in your country, ask the school that issued the diploma to send an official copy (but not the original) of the diploma in its original language to NNAS.
If NNAS receives documents written in any language other than English or French, they will need to be translated. NNAS can translate them, at your request, for a fee.
NNAS will review these documents and notify you if further information is required.
You are responsible for any costs involved in this process.
Submit your Nursing Practice / Employment Form: Sign and send this form to all the employers you have worked for in the past five years. The current year represents year one. NNAS will not accept your Nursing Practice/Employment Form if it is not sent directly from your employer.
Submit your IELTS language testing result: You will need to complete language testing and have the results sent directly to NNAS from your approved language testing agency. If your first language is either English or French, you may not have to complete language testing if the main language where you live and work is English or French, and your nursing education program of instruction was in English or French.
Once all documents have been received by NNAS, submit your application and choose the provincial association and nursing group you are applying to.
You would first have identified a Canadian province where your skills, qualifications and experience as an Internationally qualified Nurse matches the province's specific requirements.
You can find the complete list of Canadian provincial nursing regulatory bodies and their specific requirements here
After NNAS assessment, you would then apply to the Nursing medical board in your chosen Province or Territory. NNAS will send completed files to the provincial regulatory bodies so that they can make the final decision about your eligibility to work as a nurse in Canada.
Every territory will use the NNAS report as the basis for bench-marking an applicant's international nursing skills, experience and qualifications against those laid down by their respective Nursing Boards.
You would be asked to commence with the registration process once your chosen provincial regulatory body receives the report from NNAS.
Below is a list of Provinces and their regulatory bodies involved in Nursing practices across Canada: 
British Columbia
British Columbia College of Nursing Professionals.
Alberta
College of Licensed Practical Nurses of Alberta
College & Association of Registered Nurses of Alberta
Ontario
College of Nurses of Ontario
Nova Scotia
Nova Scotia College of Nursing
Saskatchewan
Saskatchewan Registered Nurse Association
Manitoba 
College of Registered Nurses of Manitoba
Practical Nurses College of Licensed Practical Nurses of Manitoba
After you have completed your Nursing registration with the Provincial regulatory body and you have secured a license, the next stage is to choose the immigration Program that fits you.
There are three major immigration options available to prospective immigrants who want to come to Canada as a nurse and in this case, the Federal Skilled Worker (FSW) route under the Express Entry (EE) was the route she used.
Step 7: Express Entry Profile Creation
Relocating to Canada from Nigeria cannot be successful without creating a profile account on IRCC website. The next step is to proceed to Immigration, Refugees and Citizenship Canada (IRCC) and create a profile account for Express Entry (EE)
This process usually takes between 2 – 24 months from ITA to CoPR but thanks to covid19 things have changed.
Get ready to go into the express entry pool via MYCIC by gathering all your docs like IELTS test reports, ECA, Job-related doc, Proof of funds, Birth Cert (for children) etc.
If you are in the pool, expect Invitation To Apply(ITA) from IRCC. You must either accept or decline the ITA within 60 days.
If you accept the ITA, go for upfront Medicals at any of the designated medical centers in Nigeria and police certificate from Alagbon and be ready to upload all your supporting documents online via MYCIC.
ESTIMATED COST FOR Express Entry (EE)
IELTS
BC: N85,000 Naira
IDP: N83,000 Naira
Credential Evaluation Assessment (ECA): This largely depends on the evaluating body and bank charge. It ranges between N90,000 Naira to N150,000 Naira.
Note: This is subject to change
Express Entry Fees 
Processing Fee: CAD 825
Right of Permanent Residents Fee RPRF: CAD 500
(Total of CAD 1,325 for main applicant and additional CAD 1,325 if spouse or common-law partner included)
CAD 225 per dependent child
Medicals: (this depends on the no of family and clinic)
Police clearance: (N35000 Naira to N50,000Naira)
Biometric Fee: CAD 85 for main applicant and additional CAD 85 for another applicant
Proof of Funds (POF): (UPDATED INFO  CHECK HERE )
Family of 1: CAD 13,757
Family of 2: CAD 17,127
Family of 3:  CAD 21,055
Family of 4: CAD 25,564
Family of 5:  CAD 28,994
Family of 6:  CAD 32,700
Family of 7:  CAD 36,407
Additional family member CAD 3,706
APPENDIX 
Abbreviations used in this article are;
EE – Express Entry
CRS – Comprehensive Ranking System
ITA – Invitation to Apply
RPRF – Right of Permanent Residence Fees
PPR – Passport request: IRCC sends "Ready for visa" e-mail
ECA: Educational Credentials Assessments
IQAS: International Qualification Assessments
WES: World Education Services
PNP: Provincial Nominee Program
IELTS: International English Language Testing System
MCC: Medical Council of Canada
PEBC: Pharmacy Examining Board of Canada
RN: Registered Nurse
TRF: Test Report Form
FSW: Federal Skilled Worker
FST: Federal Skilled Trade
DIY: Do It Yourself
CoPR – Confirmation of Permanent Residence
BCS: British Computer Society
Conclusion
I believe this comprehensive guide on how you can relocate from Nigeria to Canada as a nurse is helpful, If you read word for word and follow each step diligently, you can as well achieve your dream of relocating to Canada from Nigeria as a nurse. Kindly drop your questions in the comment section and you can also share with your loved ones.